Shoes: Is Barefoot Really Best?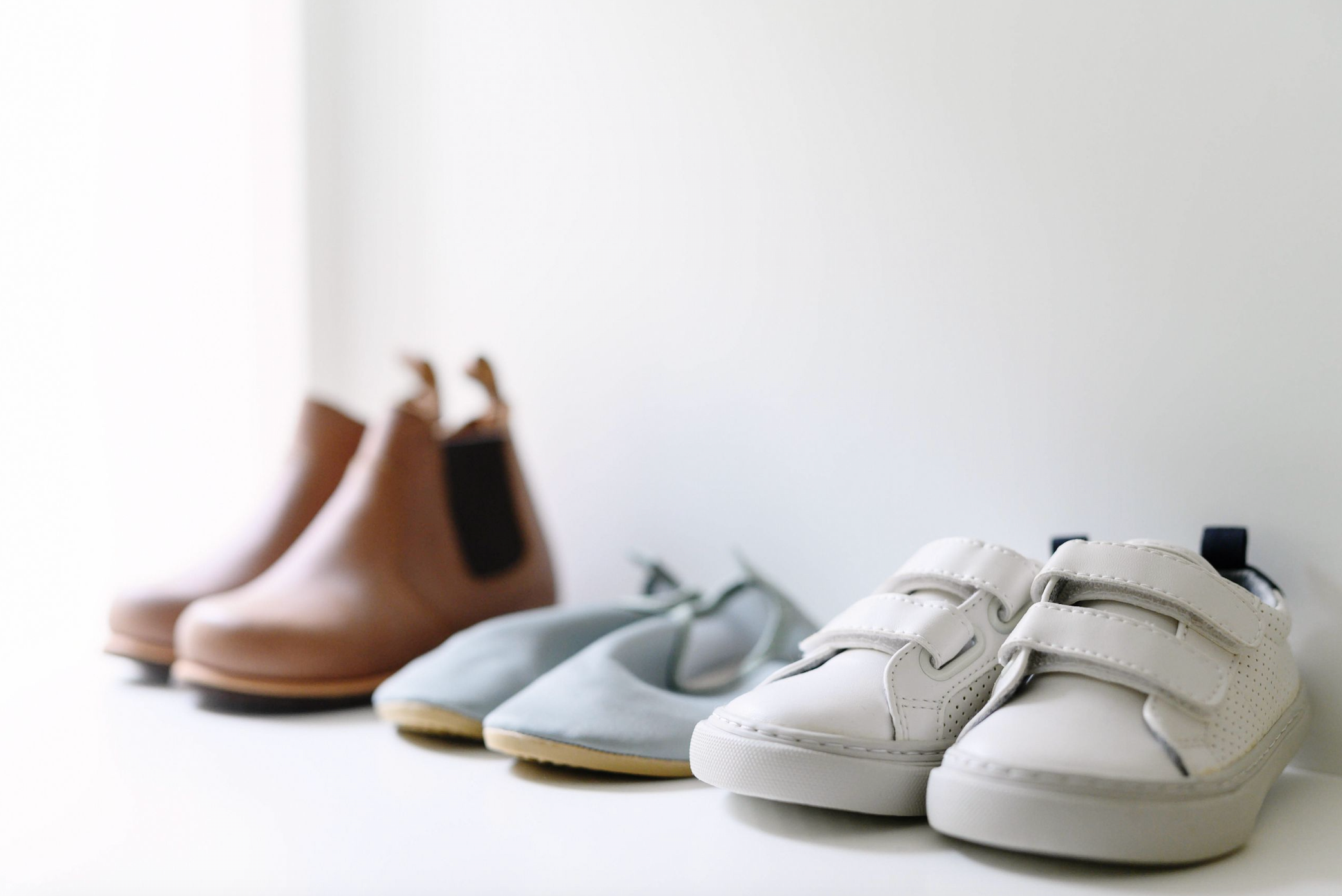 When Should I Put Shoes on My Baby?
The best known mantra surrounding babies + shoes is "barefoot is best." But, as a mom, I know this can be really confusing for parents who want to do what is best for their baby, but then how and when is it appropriate to introduce shoes? While it is true that there are many benefits to barefoot walking, including: strengthening the toes and arches of the feet, improving balance and providing sensory input to the bottoms of the feet, shoes are also a necessary part of life, especially when walking out in the community and in many daycares. I tend to be more conservative in my views on barefoot vs. shoes. As a therapist, I see the benefits of walking barefoot; as a mom, I see the benefits of introducing shoes early to acclimate baby to that process. I like to recommend that families use a combination of barefoot and shoes once baby starts working on standing skills. Many times, I have families contact me that need their baby to wear shoes for school, but they have never put shoes on before and their baby is resistant to the change. I like to at least introduce some crib shoes or other lightweight moccasin type shoes around the time your baby starts learning to pull to stand. If you like to have a more concrete guideline, aim for keeping your baby barefoot at home and using the lightweight crib or moccasin shoes when leaving the house or going to school.
Of course, if you have these lightweight shoes on your baby while at home, it will not hurt your baby's development in any way. I try to stay away from "absolutes" in my developmental advice because there are many different ways to do it "right." I never want to shame parents because they do something differently from what I do with my family. Use these shoe guidelines and then make them fit into your family's lifestyle!
Once your baby starts working on walking skills, you will want to give a little more consideration to the shoes you are putting on your baby's feet. Here are some important considerations when buying shoes for new walkers:
Supportive heel cup: this is the part of the shoe that holds the heel in place. Having a sturdy heel cup keeps the ankle in place and keeps it from sliding around. This will ensure that your baby can focus on balance and walking and not about keeping the foot in place within the shoe.
Adjustable straps or laces: this keeps the shoe snug to the foot. Again, important for keeping the foot in place. Nobody wants a foot that slides around inside their shoe. Adjustable straps or laces are also great for accommodating chubby feet.
Supportive but flexible sole with non-slip bottoms: in new walkers, I like to have a shoe that you can bend in half — this allows the foot to still move around and adapt to the surface of the floor. After the first pair of flexible walking shoes, the folding in half isn't as important, but we still want something flexible with a non-slip sole.
Wide toe box: it is important to have a wide space for the toes to spread out easily, which is the natural position of the toes while walking. This allows your toes to assist with balance and stability. It's also important for foot/toenail health to not have the toes scrunched & squished together.
How Do I Know What Size Shoe to Buy?
The best way to know what size shoes you should buy for your baby or toddler is to take a good measurement and then compare it to the size chart of the specific brand you plan to buy. Unfortunately, not all shoe sizing is created equal, so it's best to measure each time you buy a new brand.
My best tip for correctly measuring your baby's foot is to get a blank piece of paper and tape it to the floor on all four sides. This keeps the paper from slipping around while you try to measure. Then place your baby in standing (supported if baby isn't standing independently yet) and draw a line at your baby's heel and a line at your baby's longest toe. It is important to measure while baby is standing because when you are bearing weight through your foot, the bones of the foot will spread out and the foot expands. Measuring in standing is the best way to get an accurate measurement. Resist the temptation to buy a size up when buying shoes, especially when buying shoes for a brand new walker. I know that we want to get the most "bang for our buck," but buying a shoe that is too big can increase tripping and falling, especially in a walker with less experience.
Brittany is the founder and creator of Mommy & Me PT, LLC. She graduated with her Doctorate of Physical Therapy in 2013 and has worked as a pediatric physical therapist since that time, both in the outpatient setting and as a therapist in a developmental center. She has served children of all ages and abilities through her career, but her true passion has always been the birth to 3 population and parent education. She believes all parents deserve to be equipped, empowered and confident caregivers. Mommy & Me PT aims to help parents learn how to foster their child's motor skills through simple, purposeful play.