Deck The Paws this Howliday with Noble Friends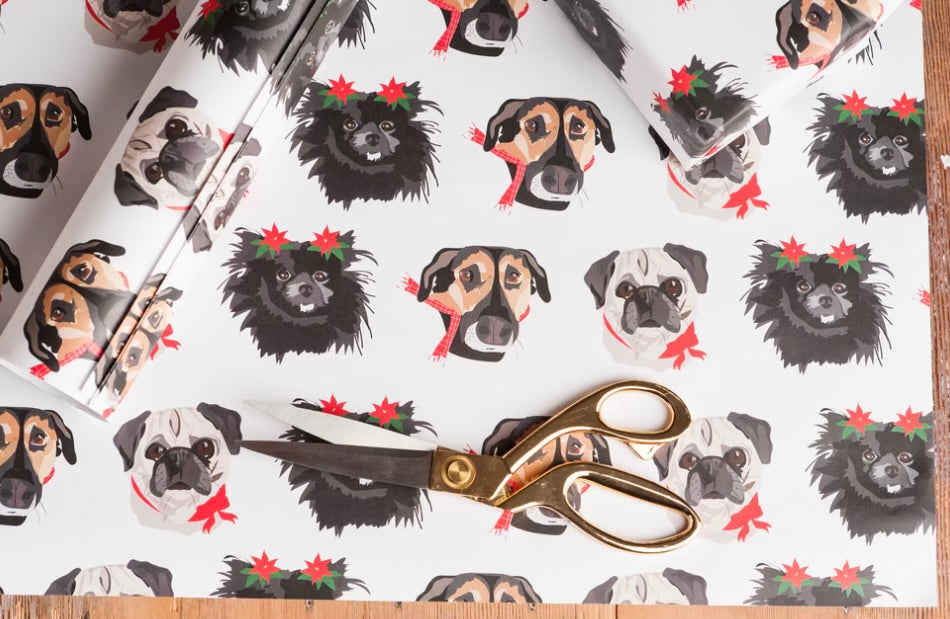 Are you as obsessed with your fur babies as we are? Then you are going to love hearing about this next brand. We're spotlighting one of our favorite small creators, Noble Friends; and their top dog mama, Carolynn Lemke.  She has built a brand with her creative skills in art and graphics and combined it with her love for animals.  Noble Friends is a custom made-to-order marketplace for the pet OBSESSED!  She offers hand drawn pet portraits that you can adorn on a vast selection of products.  Tote bags, beach towels, swimsuits, water bottles and products for your pet such as food mats or dish bowls; you name it, you got it!  You can also co-create your own design with Carolynn.  For example, if you want your drawing to be holiday themed or incorporate one of your pet's favorite toys; there's no limit to the possibilities. One of my favorite designs is the Pug with a Santa hat holding a Starbucks cup.  Sooo cute!  She will keep your design on file furever so you can always come back and order new products for yourself or your pet.  If you're not ready for a custom design, Noble Friends also offers lots of fun, ready to ship products for any pet lovers.  Did we mention she was featured on THE TODAY SHOW? 
Not only does Carolynn use her talent for custom projects, but she also hosts art camps and classes for kids in upstate New York.  We asked her what she hopes they take away from her classes.  She said "In the summer, Noble Friends gets a little slower, so I have some down time. I was looking to get my own kids in some camps and realized there were no serious art camps close by, so I just decided to "wing it" and created one. I have no teaching experience besides my own skills from Covid homeschool of hard knocks (ha) but am passionate about kids learning to find their talents and learn not only CORRECT techniques in art but also how to market and sell their art."
Carolynn is also a talented book illustrator having illustrated the bestselling children's book Rescuing Rumba.  A tale about dog rescue and forever friendship. Available at Barnes & Noble, Amazon, Target and Walmart. "I love illustration books, there is a lot more to them then you think. You have to dive deep into the story and pick apart each word to decide how to capture your readers. It's a fun challenge." 
Here are a few of Carolynn's Favorite Holiday items to gift this season: Custom Luggage, wrapping paper and ornaments.
Any new exciting collaborations or launches we should be looking out for?
"I just added a travel line for my custom section of Noble Friends and have been slowly working on ready-made items, which is exciting to me. Maybe more wholesaling in my future. I'm also working on a new book (wink) that I'm thrilled over, and some branding collaborations for a larger franchise."
Tell us a little about your background: "I went to school at the University at Buffalo for communication design. There I learned not only graphic design but also web, illustration and photography–a major passion. When I graduated, I worked in advertising for a couple years and decided to start my own business shortly after. I started working in the wedding industry creating invitations, blogs, websites for couples but also for vendors. One photographer I worked with asked me to draw her cat for her bio page and Noble Friends SNOWBALLED from there. She ordered a print, asked me to do one for her mom, etc. Years later, in 2014, I opened an online market for Noble Friends."
We just love all the clever ideas Noble Friends has come up with and the important role she is playing in her community.  Teaching our next generation of kids to find their creativity, build confidence and learn self-expression.  All while running her business and marketplace.  We can't wait to see what Carolynn and Noble Friends do next!
About Carolynn
A lifelong lover of design and art, Carolynn Lemke is the founder and owner of Two Brunettes, a creative design studio founded during the height of the recession in 2009. Combining her love of collaborating with clients, her whimsical illustration work and a one-way ticket to the unemployment office following an unexpected layoff; she has spent the last several years illustrating and designing her heart out from her home studio in Syracuse, New York. Inspired by her mother, a lover of all things crafty, Carolynn received a Bachelor of Fine Arts in Communication Design from the University at Buffalo. Since then, she has continued to be inspired by her love of family­­–frequently illustrating both families and their pets for everything from art prints to holiday cards. Today she brings that passion to her latest entrepreneurial pursuit, Noble Friends, a pet shop designed for pet lovers by a pet lover. An adoring wife and a doting work-at-home mother of two, Carolynn also shares her heart with her fuzzy little dog and her two cats, all of whom frequently inspire her art.
Keep in touch with Carolynn and Noble Friends
Instagram: @noblefriendshop