With Father's Day right around the corner, you (and possibly your little ones) may be wondering what the perfect gift for dad is or how to make his day special and memorable. Although COVID-19 may have made this a little more difficult, have no fear, we have created a list of fun and easy activities and small gifts that children young and old can enjoy with dad!
One great idea for a DIY Father's Day gift is to create "coupons" to give to dad that he can redeem. I know I loved doing this as a child, and my dad definitely appreciated the help that often came with them. Younger kids can write things like "clean up toys" or "good for one hug", while older kids can offer a helping hand with things like "help wash the car," "clean bedroom," or "help in the garden." Not only do these activities help get tasks done around the house, but they allow for bonding time with dad.
Another DIY idea is to make a homemade card, which has endless design possibilities. One personalized way is to have the child trace their hand (or if their young, trace it for them) on construction paper, and then cut out the hand. Using the hand cutout, the child can decorate it with markers, colored pencils, stickers, glitter, or any other craft supplies. Bonus: if the child makes a "hand" card a couple years in a row, it's fun to save them and look at them all together later to see just how much they've grown!
One last gift idea is to create a photo album using construction paper and any printed photos. Each piece of paper can get a photo or two depending on the size of the photos. Kids can add creative touches to each photo or even write the date so that dad always remembers when the photo was taken. After all the photos have been used, align the papers together and punch three to four holes on the left-hand side (definitely use a three-hole punch if you have one!). Once the holes are punched, help your kids put ribbon through the holes. And don't forget to create a cover for the album!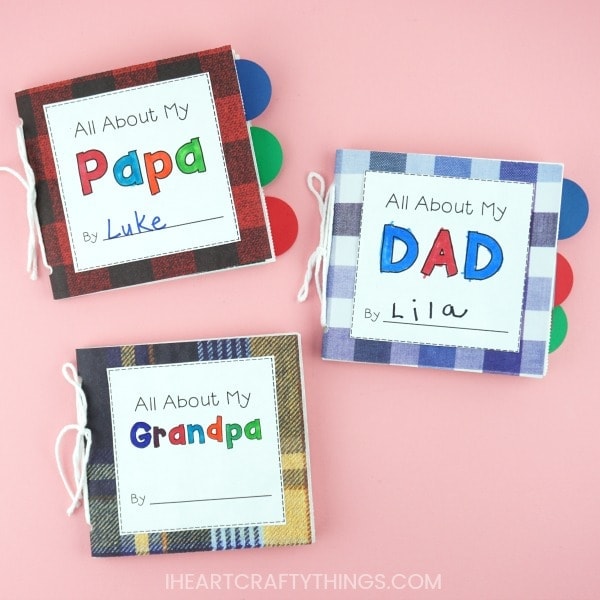 There are also lots of activities that dads and kids can do together to make the day special. One of our favorites involves getting outside – four square. Using chalk, simply draw a square and then divide it into four parts. Each person gets one square and using a bouncy ball, each person tries to get it into a square. If the receiver doesn't bounce the ball back, the sender gets a point.
Another fun activity that can be done inside is to build different structures using Magna-Tiles. You can build a house, castle, building, or anything in-between. And, it helps teach kids math and science as they have to put different shapes together so that the structure will stand. If you don't have Magna-Tiles, Legos or any other building blocks work just as well!
We hope you enjoyed these DIY gifts and Father's Day activities, and we wish all dad's out there a Happy Father's Day!
P.S. Check out our Father's Day coloring page below!
Right click to save and print the coloring page!